Select Increments® Sky-Pod accepts most 4" speakers and throws rich sound directly at the driver and passenger, providing excellent frontalimaging in your CJ or Wrangler. The Sky-Pod is made of durable, thick plastic and fastens easily and securely to the windshield frame by using your vehicle's existing footman-loop screw holes and the provided hardware.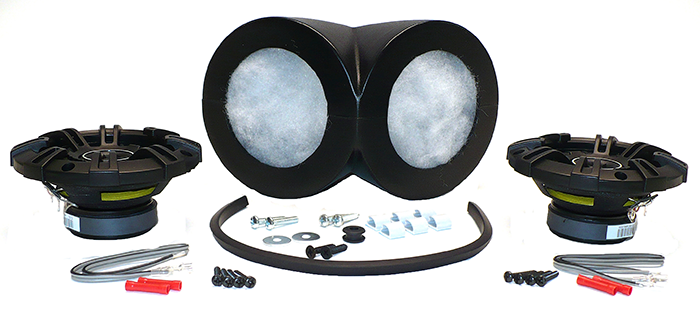 . The pod is held firmly in place with included fender washers and screws, and the footman loop is then reattached to the top of the pod for bikini top usage/fastening. The Sky-Pod won't interfere with hard or soft-tops, visors or your rear-view mirror. Most installations in Wranglers include tucking the wires in the windshield gasket until they reach the roll-bar, then run them under the roll-bar pad and down to the floor to your amplifier or radio. Most installations in CJ's include tucking the wires in the windshield gasket until they reach the plastic soft-top piece mounted to the side of the windshield, then through the hole for your wiper motor wires. There are several options for both CJ's and Wranglers in running the speaker wires and the instructions describe in detail how to install and wire the pod in your particular Jeep, including the '03-'06 models with the plastic windshield trim pieces known as Head Impact Trim. Download the install instructions right here on our site if you'd like to see more.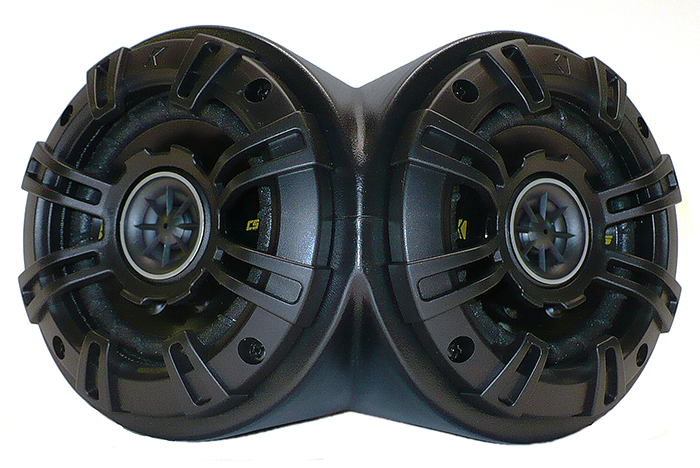 If you have an '03-'06 Wrangler or Wrangler Unlimited, all you have to do is remove the long, center plastic piece. It pops right off much like a typical car door panel and pops back on much the same. These models make running the speaker wires really easy because you can hide the wires behind the trim piece until they reach the roll bar and then just run the wires under the padding. The instruction sheets describe how to modify the plastic piece and include a template that you can cut right out of the instruction sheet, place on the plastic piece and mark where to cut. The best tool to do this with is a rotary cut-out tool, like the Rotozipâ. A jig-saw will also work. Even a good pair of snips can do the job. You don't have to make a perfect cut because the included trim molding will hide your entire cut, making it look factory. The only other modification for the '03-'06 models deals with the footman loop: The loop is held in place with rivets instead of with screws like it is in the earlier models. You can drill out the rivets with a 5/32" drill bit, form threads with the included thread-making screws to thread the holes, then add the fender washers and just screw the pod in place!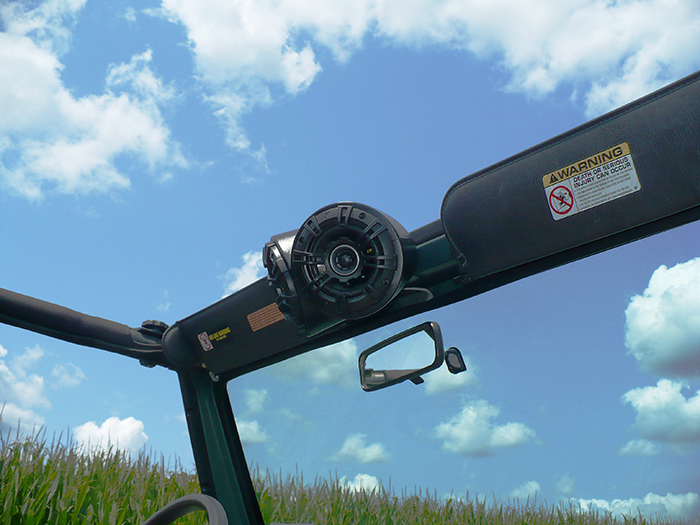 All Sky-Pods come with all necessary mounting hardware, poly-fill, and installation instructions. The Sky-Pod is available empty so you can add your own 4" speakers, or get it with 4" Kicker® speakers offering world-class performance and durability.

The Sky-Pod™ fits '55-'06 Jeep CJ, YJ, TJ Wrangler & Wrangler Unlimited